This page is dedicated to our members who have fallen asleep in Jesus and now awaiting the resurrection morning. Many of the charter members are the pioneers and  stalwarts of Mount Zion who have given their all to establish this community of believers at Mount Zion Filipino Adventist Church. We hope to remember them in this special web page in memory of their service and dedication to the cause of God.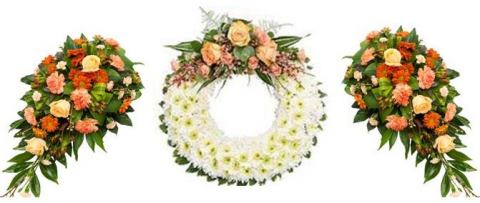 These are our members who
                               "have fought a good fight and have finished the race",
              and now sleeping and waiting for the second coming of Jesus Christ.
Note: Those with asterisk (*) are Charter Members.
ALBA, Luis Gordon*
Aug 25, 1926 - Sep 23, 2017
Antique, Philippines

 

ALBA, Teresa Luces*
Oct 15, 1922 - Sep 21, 2020
Antique, Philippines

 

 

 

ALBA, Ruben Luces*

Aug 30, 1966 - Mar 12, 2020

Toronto, Canada

 

 

 

ALBA-EDWARDS, Elizabeth*
May 22, 1956 - Oct 30, 2012
Antique, Philippines
(Laid to rest in Manchester, England)

 

 

 

AQUINTEY, Josephine
Jun 16, 1922 – Apr 19, 2006
San Fernando, La Union, Philippines

 

 

 

AURE, Crisanto
Oct 25, 1929 - Jun 17, 2013
Toronto, Ontario
(Laid to rest in Asis, Mendez, Cavite, Philippines)

 

 

 

AYDALLA, Romeo Perez
Jan 29, 1936 - Apr 18, 2012
Toronto, Ontario

 

 

BALANCE, Melania Ramos
Oct 16, 1967 - Sep 20, 2014
Toronto, Ontario

 

 

 

BASIT, Buenaventura
Jul 7, 1918 – Oct 3, 2003
Occidental Mindoro, Philippines

BASIT, Benigna
Nov 20, 1929 – Dec  3, 2012
Occidental Mindoro, Philippines

 

 

 

 

BASIT, Juan
Jun 24, 1911 – Mar 31 2005
Toronto, Ontario

 

 

 

BASIT, Reynaldo*
Dec 23, 1935 – Nov 10, 2018
Toronto, Ontario

Laid to rest in _____, Philippines

 

 

BELONIO, Daniel Sr.*
Oct 28, 1932 - Sep 9, 2012
Toronto, Ontario

Laid to rest at Westminster Cemetery

 

 

BELONIO, Rebecca Real*
Jun 1, 1926 – Dec 21, 2003
Toronto, Ontario

Laid to rest at Westminster Cemetery

 

 

 

BUCAIS, Frank Sr.*
Nov 30, 1953 – Apr 24, 1992
Toronto, Ontario

 

 

CALAGUIAN, Concepcion Napenas*
Dec 7, 1915 - Nov 14, 2012
Toronto, Ontario

 

 

 

 

CARDONA, Jesse Dario*
Jun 15, 1969 - Jan 6, 1998
Toronto, Ontario

 

 

 

CASALAN, Rodolfo Corda
Sep 15, 1948 - Sep 11, 2014
Toronto, Ontario

 

 
 

COMILANG,  Priscella D.*
Jun 16, 1922 - Dec 24, 2015
Philippines

 

 

DELA ROCA-COLOMA, Clere Jean *
Aug 22, 1942– Jul 5, 2019
Toronto, Ontario

 

 

FRIAS, Nathaniel Jr. *
Oct 19, 1960 – Sep 19, 2009
Toronto, Ontario

 

 

 

FRIAS, Nathaniel Sr. *
Mar 4, 1923 – Aug 22, 2013
Toronto, Ontario

 

FRIAS, Evangeline*
May 8, 1928 – Oct 29, 2010
Toronto, Ontario

 

 

 

GALAITES, Ernesto  Honesto Sr.*
Feb 24, 1944 - Jan 17, 2017
Toronto, Ontario

 

 

 

 

GORDON, Anthony Blair
-
Toronto, Ontario

 

 

 

GOROSPE, Conrado
Jun 11, 1951 – Nov 8, 2002
Toronto, Ontario

 

 

GROSPE,  Godofreda
??? ??, 19?? - ??? ??, 20??
Kalamazoo, Michigan

 

LABARETTE, Magdalena*
Feb 6, 1911 – Jun 12, 1998
Tagudin, Ilocos Sur, Philippines

 

 

 

 

LAGAZO, Casimiro
Mar 4, 1917 – Jan 16, 1996
Toronto, Ontario

LAGAZO, Andrea
Feb 9, 1928 - Feb 14, 2016
Kidapawan, Philippines

 

 

 

LAYA, Natividad
-
Philippines

 

 

LUMBO, Miriam

Apr 2, 1939 - Jun 13, 2018 

Toronto, Ontario

Laid to rest in the Philippines

 

 

MALANGYAON, Daniel
Oct 2, 1953  - Nov 12, 2017
Toronto, Ontario

 

 

MALANGYAON, Pablo*
Feb 23, 1927 – May 7, 2008
Toronto, Ontario


MALANGYAON, Fe*
Jul 10, 1929 - July 17, 2008
Toronto, Ontario

 

 

 

MALLARI, Lazaro*
Apr 11, 1912 – Mar 28, 2007
Malolos, Bulacan, Philippines

 

MALLARI, Elisa* 
Dec 8, 1913 – Apr 19, 2003
Malolos, Bulacan, Philippines

 

 

 

MALONES, Alejo Navajas*
Jan 5, 1917 - Feb 15, 2017
Toronto, Ontario
 

MALONES, Elena Belarma (Frias) 
(2nd Wife of Alejo)
Jan 25, 1925 - Jan 16, 2017
Toronto, Ontario

 

 

 
MALONES, Leonore*
(1st Wife of Alejo)
May 25, 1923 – Feb 24, 1998
Toronto, Ontario
(Laid to rest at Beechwood Cemetery)

 

 

 

 

MARAVILLA, Rebecca Tumpag
Feb 9, 1935 – Mar 4, 2006
Toronto, Ontario

 

 

 

MARIANO, Marcelo
Sep 8, 1920 – May 2000
Toronto, Ontario


MARIANO, Maximina
Jun 8, 1927 – Jun 2001
Toronto, Ontario

 

 

 

 

MARY, Cesar
Sep 11, 1941 – Jul 26, 2006
Toronto, Ontario

 

 

MENDOZA, Lorenzo* 
July 21,1916 - Aug 26, 2012
Toronto, Ontario
 

MENDOZA, Maxima*
Apr 16, 1916 – Apr 19, 2008
Toronto, Ontario

 

 

 

MINA, Fred Serrano
May 9, 1932 - Mar 23, 2015
Toronto, Ontario

 

 

 

 

MIRANDA, Marcelino
Apr 26, 1914 – Jan 21, 2002
Aurora, Ontario

 

 

 

MIRANDA, Radji
Aug 29, 1966 – Aug 4, 2011
Toronto, Ontario

 

 
MORENO, Alejandro Marino*
Jan 19, 1922 - Aug 30, 2019
Toronto, Ontario

 

MORENO, Virginia*
Sep 21, 1921 - Oct 15, 2017
Toronto, Ontario

 

 

 

 

PAGAL, Gregorio
Jan 27, 1943 - Apr 10, 2016
Kitchener, Ontario


PAGAL,  Emilia
___________?
Kitchener, Ontario

 

 

PAULINO, Mariano *
Dec 8, 1921 – Apr 27, 2001
Laoag, Ilocos Norte, Philippines

 

PAULINO, Teofila*
??? ??, ???? - ??? ??, ????
Laoag, Ilocos Norte, Philippines

 

 

 

 

PINUELA, Nenita*
Dec 18, 1942 - Aug 16, 2012
Toronto, Ontario

 

 

POSTIGO, Jane
 ???? -Sep 3, 2006
Philippines

 

 

 

 

PRIMERO, Teodora* 
Nov 14, 1914 – Mar 5, 1997
Toronto, Ontario
 

PRIMERO, Florentino*
 ??? ??, ???? - ??? ??, ????
Toronto, Ontario

 

 

 

REGOSO, Simon Floro* 
Oct 28, 1920 – Oct 12, 2007
Toronto, Ontario
Laid to rest at  Beechwood Cemetery

REGOSO,  Laureana Dimapilis*
Jul 4, 1916 – Feb 15, 2005
Toronto, Ontario
Laid to rest at Beechwood Cemetery

 

 

 

 

RESPICIO, Albina*


 ??? – Sep 24, 2014
Philippines

 

 

REY, Bonifacio
Oct 9, 1930 – Feb 5, 2003
Toronto, Ontario
Laid to rest at  Beechwood Cemetery

 

 

 

 

ROJO, Geminiano
Sep 16, 1914 – Feb 7, 2006
Liliw, Laguna, Philippines

 

 
ROSA, Cheryl Macote
Oct 26, 1961 – Dec 12, 2007
Toronto, Ontario

 

 

 

 

SALAMANCA, Felicisimo Viterbo*
Mar 26, 1928 – May 11, 1994
Talavera, Nueva Ecija, Philippines


SALAMANCA, Rufina Bules*
Feb 27, 1929 - May 16, 2016
Toronto, Ontario
(Laid to rest in Talavera, Nueva Ecija, Philippines)

 

 

 

SAMSON, Andres
Oct 16, 1941 – Nov 18, 2003
Chicago, Illinois

(Laid to rest in Toronto, Ontario)

 

 
 

SESE, Editha*
Feb 8, 1955 - Jan 6, 2003
Philippines

 

 

SOLIJON, Leila*
Apr 20, 1951 – Dec 1, 2003
Toronto, Ontario

Laid to rest at Westminster Cemetery

 

 

 

 

SOLIJON, Georgia
Feb 22, 1951 – Feb 2, 1998
Mt. 387 (Plane Crash), Mindanao, Philippines

Remain was not found

 

 

SOLIJON, Delfina "Mommie"
Aug 4, 1920 – Apr 10, 2007
Toronto, Ontario
 

 

 

 

SOLIJON, Zorahayda
May 10, 1943 – Jun 28, 2003
Los Angeles, California

 

 

SUTINEN, Majia
???? - May 18, 2012
Toronto, Ontario
 

 

 

TALANGBAYAN, Isidro*
May 15, 1912 – Feb 21, 2004
Toronto, Ontario

 

TALANGBAYAN, Martha*
Jan 28, 1916 – May 4, 2006
Toronto, Ontario

 

 

 

TENERIFE, Silvestre*
Oct 25, 1925 –Sep 26, 2007
Toronto, Ontario
(Laid to rest in  Iloilo, Philippines)

TENERIFE, Mercedes Inarsolin*
Sep 24, 1925 –Sep 12, 2018
Iloilo, Philippines

 

 

TOLENTINO, Priscillano*
Jan 6, 1935 – May 23, 2010
Toronto, Ontario

 

 

 

 

 

VILLANUEVA,  Antonio Lopez, Sr.
1930 – 2019
Toronto, Ontario