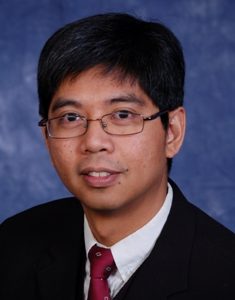 Pastor Jess, his wife and infant daughter arrived in Canada in October of 2001 as immigrants. His first Canadian pastoral exposure was with the Filipino Canadian Seventh-day Adventist Church where he was a Bible Worker from December 2001 to July of 2002.
 
In August of 2002, he was called by the Ontario Conference to pastor the Mississauga Filipino Seventh-day Adventist Church where he joyfully ministered until 2009. It was while serving in this church when his call to the ministry was affirmed when he was ordained to the gospel work in 2006.
 
In November of 2009, he accepted the call to move to a bigger congregation in Toronto, the Mt. Zion Filipino Seventh-day Adventist Church where he has been the lead pastor up until the present.
 
He graduated with 2 Bachelors' and a Masters' Degree from the Adventist University of the Philippines:
1. Bachelor of Arts in History, Philosophy and Religion – 1995
2. Bachelor of Arts in Theology – 1996
3. Master of Arts in Religious Education - 2001
 
Immediately after his graduation in 1996, he was called to become a Graduate Assistant/Bible Instructor at the College of Theology of his alma mater (AUP) where he served in such capacity for 3 semesters.
 
From 1997-2000 he served as an assistant pastor in 2 large districts in the North Philippine Union Conference.
 
Pastor Jess is married to the former Mae Alcantara Favie, presently, a full time home-maker, Social Worker by profession. They are parents to two pre-teens: Aimee Jessamine (born in 2000) and Josiah Cedrick (born 2002).
 
His favourite text is found in Galatians 2:20. His life's mission is to make as many disciples for Jesus Christ through the ministration of the Holy Spirit in his life. His passion is to proclaim and live according to God's grace and to make believers become grace givers!